Take the Yak Train
A Slow, Cold March Toward Mount Everest


By MARCUS CHAN
Blast San Francisco Bureau

My trip to Nepal was no vacation. But it was an adventure - one that had to be earned every step of the way. While trekking has never been my "thing," it quickly became my main mode of transportation through this mountainous region that sports eight of the 10 highest peaks in the world.

Don't Have A Cow

I've never felt so far removed from Western civilization as I did walking the streets of Kathmandu, Nepalís Big City. You think driving in your town is tough? Try Kathmandu, where cars, trucks, buses, bikes, man and sacred cows converge to form a never-ending obstacle course. The worship and protection of the cow, Nepal's national animal, is an ancient Hindu tradition still practiced today. Cow slaughter used to be punishable by death. Nowadays, punishment is 20,000 rupees ($340) or 2 years in prison.
It definitely wasn't Kansas anymore as I traded glances with the packs of maroon-robed Buddhist monks who looked back at me with mild curiosity. Many of the monks I saw were on their way to Swayambhunath Stupa, otherwise known as the Monkey Temple for its bands of simians that roam the sacred shrine.
One Tough Girl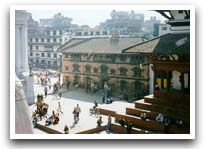 Deeper into the city, in historic Durbar Square, my dad and I came upon the Kumari House where lives a girl who is worshipped as the incarnation of the virgin goddess Durga. Kathmandu's Royal Kumari, who even the king of Nepal bows before, is chosen from a selection of girls ages 4 or 5 who have "thighs like a deer, chest like a lion, neck like a conch shell, eyelashes like a cow, and body like a banyan." The final candidate is tested by being left in a dark room filled with bloody buffalo heads. If the girl can endure this frightening ordeal, she has proven that she embodies the fierce goddess Durga. The Kumari doesn'tattend school or play outside her house because her feet aren't supposed to touch the ground. A new Kumari is chosen after the "old" one reaches puberty or otherwise loses blood, as from a small wound.
Off to the Country
Just as I was getting used to the chaos and crowdedness of Kathmandu, we flew by Buddha Air to the resort town of Pokhara, where we met our guide and porter. From there we headed out to a trailhead to begin our trekking adventure through the countryside. This was the last time we would see any vehicles for the next six days. Not even so much as a bicycle.
At first it was hard for me to deal with the children in the countryside, many of whom came up to us begging for money, candy or pens (a scarce commodity at the schools). Because we were warned not to encourage their begging, it was a bit draining having to say no to them constantly. (It's encouraged, instead, to donate supplies or money to the local schools or health clinics.)
However, not all of them were looking for handouts. A great number were just happy to see us, greeting us with a "namaste" or "hello" as we walked through their village. Many were curious, while others were very playful, linking arms and singing as they tried to block our path on the trail.
Carried Away
After seeing the back-breaking work Nepal's porters do, I swore I wouldn't complain about my job again (for at least a week). But you can't help but cringe at the loads these porters carry for hours and sometimes days: baskets of wood, sacks of rice, expedition supplies, tables, chairs, and aluminum siding.
Because there are no paved roads, thus, no vehicles to carry supplies through the rolling valley, it must all be carried by man or animal. But animals are expensive to own and take care of, so many things fall on the shoulders of porters.
Good Morning, Anna
My job at the Daily Grind (read: San Francisco Chronicle) doesn't start until noon, which affords me the luxury to sleep (read: waste) the early part of my day away. But waking up in Nepal at 6 a.m. is no problem when you're greeted with views of the Annapurna mountain range like this.
Big Game
After leaving the countryside, we headed for the jungle: Chitwan National Park. Once the exclusive hunting ground of Nepalese royalty, the park - which covers an area of 402 square miles - is now a sanctuary dedicated to the preservation and protection of indigenous wildlife. Game viewing is mainly done on the back of well-trained elephants since it's the safest way to view tigers (which we didn't see) and the Asian one-horned rhinoceruses (which we saw plenty of). Also, rhinos favor marshy ground, and some areas of prime habitat are only negotiable by elephant.
By 4-wheel-drive we also saw plenty of spotted deer and monkeys, and by canoe, we saw crocodiles, which from a distance, looked like driftwood. Chitwan was also a bit dangerous for another reason: malaria-carrying mosquitoes. And although we were told that it wasn't mosquito season, so not to worry, someone neglected to tell the mosquitoes. Especially the ones that bit me 13 times.
Into Thinner Air
The final leg of our trip put us in the Everest region. Although there was no way in hell we were getting near Everest (címon, weíre sea-level dwellers), we thought we could get close enough to at least see the highest peak in the world with our own eyes.
After two days of trekking up steep hills, across precarious cable bridges and around "yak trains'' in rain and icy cold temperatures, dad and I reached Namche Bazaar, a Sherpa trading town nestled in the hillside at 11,300 feet.
Now, 11,300 feet may not sound like much compared to the 29,028 feet atop Everest, or even the 17,600 feet of Everest base camp (which we were a couple of days away from). But for us oxygen lovers, it was plenty high.
Although unscathed from the first 17 days of our trip, dad and I knew we'd be pushing our luck during this chapter of our adventure. The air was thinner, the terrain more rugged and slippery, and the temperatures harshly colder. (It actually snowed on us when we first reached Namche.) Sure, put us in any big city USA, and we can hold our own. But the elements here made it an entirely different ballgame. If we became seriously sick or injured here, there was no ambulance. It meant being carried to the nearest helipad to be choppered back to Kathmandu. But given the reward - to view the highest peak on this planet - it seemed an acceptable risk.
Padam, our likable Everest guide, told us that weather-permitting the next morning, we would hike up to near 12,000 feet, above Namche, to view Everest. Weather-not-permitting, we would stay in Namche an extra night - not an enticing thought since that meant making up a lost day of trekking the following day. In our estimation, that meant having to trek 9-plus hours in one day.
Feeling Just Super
That night, there was a lot of praying to the mountain goddess for clear skies and a clear view of the mountain. As it turned out, there would be plenty of time to pray ≠ dad and I could barely sleep. The altitude was getting to us: Our breaths were fast and short, our stomachs were queasy and our craniums were aching. While laying absolutely still, I could feel my heart pumping hard to deliver oxygen to my body.
And to top it off, the 20-degree temperature outside chilled us to the bone. I slept with three layers of pants, a long-sleeved capilene shirt, pullover and jacket, gloves, a hat, three pairs of thick trekking socks in which I inserted feet warmers, and I still felt like a frozen gyoza. As my friend Kenny would later throw in my face as I told him this story, "Dude, and you paid for this?!" Well, yeah.
Cloudy Skies, Foggy Minds
Our prayers were answered, sort of. When we woke up at 4:30 a.m., the weather outside looked hopeless. The skies were blanketed with clouds. Too tired to be disappointed, we climbed back into our sleeping bags and attempted to sleep. But at 5:30, our guide knocked on our door. "Still in bed?" he asked in a surprised voice. "The skies are clearing. Time to go!"
After a slow march above Namche, this is what we saw. The clouds never did afford us a clear view of the summit, but the view of Mount Everest, known to the Nepalis as Sagarmatha (Mother of the Universe) and to the Tibetans as Chomolungma (Mother Goddess), was spectacular all the same.